While the household is being moved to a new location,
spudmiller.com is temporarily unplugged from the world.
If there is something specific you are looking for,
send an email, and we'll steer you there if we can.
In the meantime, please enjoy the One Hot Chili Pepper website!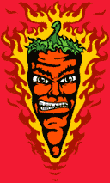 You'll be taken to the OHCP page automagically in 5 seconds...
Or, click here: