The High-speed Bypass
Lots of folks are shy of the old high-speed bypass, and quite a number of racers don't even run one. Don't be fooled into thinking that a high-speed is going to make a HUGE difference for you unless you run an Enderle style barrel valve that accepts the chamfered screw-in main jets. Those things don't flow well at higher pressures and if you don't run a high-speed, you will suffer from a severe overrich condition on the top end. Hilborn and Kinsler pills in the main can still benefit from a high-speed, but it isn't as drastic. If you run poor flowing heads, a high-speed will be a big benefit to you. A properly tuned high-speed with the correct pill might get you a tenth and a few MPH. You will not gain anything by simply adding a high-speed bypass, there is more to it than that. Opinions vary of course, but after talking with the masters and playing with it myself, the following is what I know about it. This is not specific to running nitro, but you won't want to mess with a high-speed bypass while running nitro until you have this figured out.
The pumps we run on injected setups are positive displacement and have a very linear output. If you graph it, just draw a line up and to the right at a pretty steep angle. The more RPM, the more they pump, and it increases proportionally. This is a good thing because as your motor's RPM increases, it also needs more fuel. Unfortunately, the air flow curve on even the best motor is not simply a straight line up and to the right. It has humps and bumps in the graph as the RPM climbs, and then at some point, you exceed that RPM where your induction system efficiency has peaked. Now you've reached the "knee" in the air flow curve, or that place where that line up and to the right suddenly makes a break and gets much flatter. But guess what? Your fuel pump is happily pumping more fuel in and the fuel curve continues up and to the right. The engine is now way too rich at the top end and making less power than it should.
The Poor Man's method: This method assumes you don't have any onboard data acquisition and little or no dyno time with your motor. All you have are timeslips, your ears, and 5 or 6 test passes.
Those that do not run a high-speed have probably found a pill that averages the pump output with the fuel curve. At some RPMs, the motor is a little bit lean, and at others, it is a little bit rich. To make the top end really perform, they have to use a pill that is much leaner than the bottom end and midrange would really like. They are sacrificing a bit of performance down low so that the top will charge. Let's call this their "no-bypass, best performance pill". At this stage, there is really nothing for the high-speed to do. There is no excess fuel at the top end that needs to be bypassed, so incorporating a high-speed at that point would be risky, and almost certainly make performace DROP, not increase! Before running a high-speed, you first have to find a specific sweet spot, so disable the high-speed to start with. Just turn it around (swap ends) in the return line, and it will be ineffective for now.
With the high-speed bypass disabled, you will now need to richen things up a step at a time until you start to hear popping out the exhaust at the finish line. At your highest RPM, there will now be more fuel than your motor can burn, and it begins popping at the very top-end. Until you reach that point, the high-speed bypass will do almost NOTHING for you. If you don't have any top-end popping while running your normal "no-bypass, best performance pill", you need to richen it up one step. If you still don't have any popping, richen another step. Usually, it will only take 2 or 3 richer pills to finally achieve the top-end "gurgle". You will see your ET and top speed fall off, but do not despair! The high-speed will fix this for you. You will probably see that your incremental times down the track are VERY strong until 1000'. Your motor is now making peak power on the bottom and mid RPM range, but falling down on the top end from all that excess fuel. NOW you need the high-speed bypass.
It is pretty hard to know where to have one come in and what pill to run without having your setup run on a flow test machine. Before you turn that high-speed bypass around and go wild with it, hook it up to a pressure regulator with a gauge to record the opening pressures with different shims, and make yourself a reference chart. Air and fuel will bypass a bit different, but it will get you close. Don't just take someone's word that 4 small shims will make it crack open at 46 PSI. CHECK IT! Springs vary, and the depth of various bypass canisters are different. Assuming you called an injection expert and they provided a "cracking pressure" as part of the tune-up they gave you, you should have an idea of how many shims to start with. For example, if the Hilborn guy told you that you should start bypassing at 48 PSI, and 1 big shim and 3 small ones makes your bypass start leaking at 50 PSI, then that's a great place to start. Go make a pass and listen for that gurgle. If it is still there, remove one small shim. Keep removing one small shim at a time until the popping ceases. You should now see a very strong bottom end, and your top end charge should be back. You might want to lean things one step now on the pill and see if you speed up or slow down. The fuel curve for your motor may be exceptionally straight.
Other Ideas: You could figure out all of this on a dyno, too, by making many test pulls with various settings. Dyno time is expensive though, and you can get really close while armed with just an airflow chart that shows how much air is passing into your motor through a pull. Assuming that the optimal air/fuel mixture remains constant (it does), you can quickly find the "knee" in your fuel curve and the place where your high-speed would be the most effective. If the airflow/RPM graph starts to flatten out at 7250 RPM, that is where the high-speed should crack open. "What pressure is that then?" you ask. You can calculate this on paper fairly easily if you get help with the math (buy a manual or call the experts).
If you have an EGT probe(s) on your motor and can record the data during a pass, you will get an idea of where the "knee" is in your curve too. The temperature graph through the RPM range should somewhat resemble the shape of your fuel curve.
The high-speed is the best way to torch your motor with nitro. If it ever pops out the injector tubes, GET OUT OF IT! It is too lean! Throw a small shim in it. Do not intentionally keep leaning it until it pops out the intake...start rich and quit removing shims when the exhaust popping stops.
Once you have found the optimal pill and high-speed setting, you will eventually need to change things a bit for the weather. The recommendation is that for every two pill sizes (.010) decrease, (richer), also add one small shim to the high-speed to raise the bypass pressure. This is really guess work. If you spend a couple of hundred bucks getting your system flowed, your high-speed will be right on the money and your shims can be custom made for each different tuneup. The bigger the main pill, the less system pressure is present and the lighter the spring in the high-speed needs to be in order to open at the same RPM. I can't stress enough that you (or someone) needs to do the math to see where the pill and high-speed should be set.
Scary Story: I was using a Hilborn bypass canister, and purchased a new Kinsler quick-disconnect style canister. They are nice. The problem is, the Kinsler unit is .125" longer inside than the Hilborn. If I had not checked it with a regulator and instead simply popped the same number of shims in it as before, I would have began bypassing at 24 PSI. I probably would have burned up my motor for sure!
Remember that a spring and poppet style high-speed bypass canister does not pop open suddenly and dump a huge amount of fuel. It cracks open slightly and gradually opens to regulate the top pressure achieved. Some guys put a pill in place of one of the large shims in their high-speed, and then fuss with the pill size. The experts have told me that this is splitting hairs and can make things very confusing. You might like to keep it simple and not run a pill in the high-speed. It is supposed to be a pressure-regulator, not a flow regulator. Don't turn it into one, or you could end up chasing your tail and scratching your head. On the other hand, if you get the formulas figured out and are willing to do the math, you can calculate the pill size and pressure for your high-speed and be very optimized. Most guys don't want to do the math. 'Sup to you.
Gimme more!

I have done some ET/MPH/weight/horsepower calculations, and it looks like 50% nitro gives me about 160HP at the wheels over straight methanol. Sounds great, huh? It is, but when you start increasing the power output by that much, things change. Suddenly, my converter is stalling WAY too high. The 5800 RPM stall speed increased to 6800 RPM. Not a great thing...lots of torque is thrown away and lost to heat in the converter. I plan to continue running 50%, so I will have the converter re-stalled to suit, but now if I plan to go back to straight methanol, things are mismatched again. Speaking of heat, the tranny gets much hotter than it did before, so plan to deal with that. I built an external cooler unit that plugs into the car and circulates the trans fluid through a cooler in the pits. Works great, no extra weight!

More power and quicker ETs may mean that your top end RPM may be as much as 800 RPM higher. Can your motor stay together putting out more horsepower at higher RPM? Your shift point will likely change as well. On 50%, my car likes to be shifted 1000 RPM lower than it did on just methanol (according to ET). I moved from 4.10 rear gears to 3.73 and shed almost a tenth off my ET from that alone. Nitro likes to be lugged! Gears, taller tires, short shifting...it all works.

You will probably need a bunch more nose ballast now with the added power. Traction may now be an issue, and tire pressures might need to be tweaked...you may now experience tire shake. Also, consider that if you pick up 10 MPH, it will take you more distance or more aggressive braking to get stopped. Adding more power will place higher demands on your oil. If you love your motor, feed it a 50W. Get an oil filter that is easily inspected like an Oberg or a System One. Use a coarse filter screen if you run heavy weight oil, and check it frequently for flakes and signs of a spun bearing. They happen when shock loads increase! If you catch a failing bearing as soon as it starts to happen, you can always pull the pan and roll in a new bearing. Since I started running 50% and experienced bearing failures, I keep a spare set of rod and main bearings in the trailer. Consider running more main bearing clearance than you normally would. After two major bearing failures that cost me crankshafts, I now run: .004-.005" on the mains, straight 50W Kendall, and a Titan oil pump adjusted to 80 PSI. More oil through the bearing means less heat. Note that more clearance is not good if you aren't going to run a heavier oil and a real oil pump. I also went to King bearings. They make a wide variety of oversized bearings to let you run whatever clearance you need. Their bearings are softer, have much thicker layer of material, and even come in a fully grooved version. As long as you run a big pump, fully grooved bearings can be good. Lots of nitro guys run them. Most folks say that the groove removes surface area from the load side of the bearing. That's true, but it helps keep oil in the bottom of the bearing and helps get more oil to the rod bearings. The theory is, you want to move A LOT of oil though the system, and that will help. Sure, you'll lose some power to the parasitic drag of all that oil flying around. Big deal...personally, I'm tired of buying crankshafts and this has worked perfectly for me for several seasons. The bearings all look perfect after every season of racing.

Since the 50W oil is very thick and you are likely running a bronze distributor gear, you will probably want to preheat the oil somehow. Heat the oil first and pour it in or use a pan warmer. I built a 7 quart steel vessel with a heater probe in it and a heat blanket around it. When the gauge says 160&deg, I hook up an air hose to the top and connect a hose out the bottom to the oil gallery on the side of the block. I open a valve and it pre-lubes the motor with hot oil. I stop before all the oil is gone from the can so I don't fill the galleries with air. Since I check the filter and change oil after every pass, this helps chase the air out of the filter and gets the new, warm oil into the motor in about 60 seconds. Send me an email if you'd like to know more about this setup.

I've had problems getting head gaskets to seal lately with 50%. Consider wire o-rings in the block and copper head gaskets a must, along with head studs. I even blew head gaskets with this setup until I put a receiver groove into the head to accept the o-ring. Simply squishing the copper gasket thin where the o-ring is does not work well. The receiver groove in the head makes a superior seal. The stock torque recommendation for the heads is not enough...try 70 ft/lbs, but remember that if your block was honed with a torque plate, your cylinders won't be as round if you start running more head torque later on. A small price to pay in my opinion. I'll have them hone the block with the increased torque value next time it is in the machine shop. I've been told that using a value much higher than 70 ft/lbs. may cause a stock block to crack or the threads to pull, even while using studs, so be careful.

If there is something weak and ready to break on your car (tranny, axles, crankshaft, etc.), throwing another 100 HP or more at it may just find it. Be ready!

Finally

I hope reading the above hasn't scared you out of trying to run a little nitro. An old timer told me that folks just starting out are the least likely to hurt parts because they are so careful. When you've been doing it a while and complacency starts to set in, you are likely to get zapped. If you make a list of things to do before every event (flow the nozzles, check the fuel mix, etc.), and stick to it religously, you'll probably be ok and have a lot of fun.

Resources

http://www.wediditforlove.com/techtalk4.html
http://www.turbofast.com.au/racefuel6.html
Fuel Injection Enterprises (541) 990-2485
Kinsler Fuel Injection (248) 362-1145 Their $12 catalog/tuning guide is great!
Hilborn Fuel Injection (949) 360-0909
Enderle Fuel Injection (805) 526-3838
Gene Adams Performance (530) 365-5440
Harvey Racing Engines - Fuel Injection Manual
Spud's Nitro-Calc Spreadsheet
Nitro Test Chart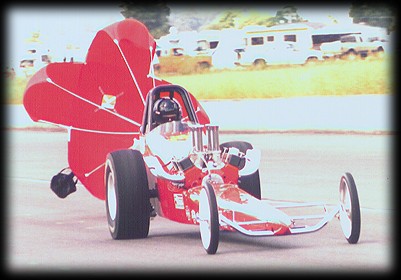 Last Edited: 4/25/2005
Copyright © 2005 One Hot Chili Pepper Racing